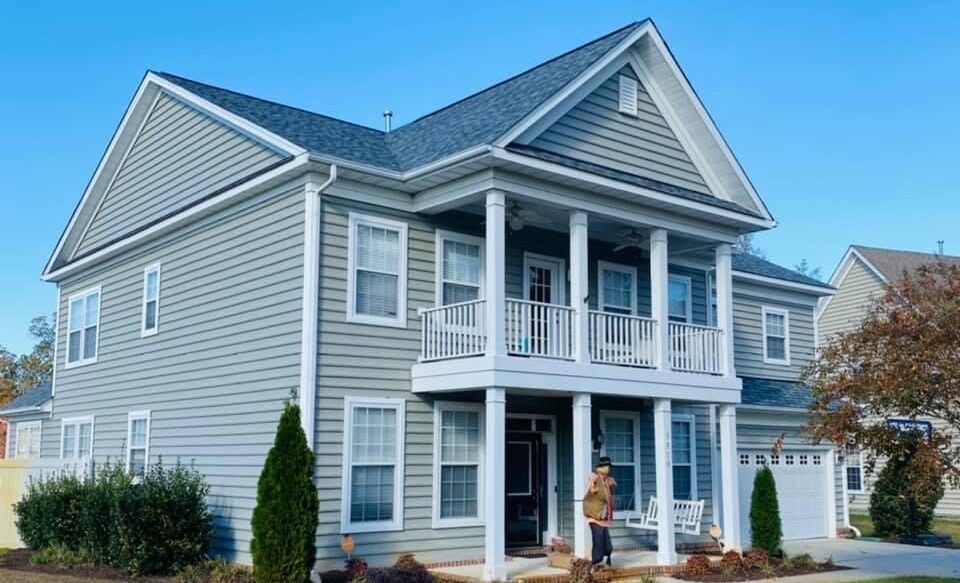 Vinyl siding
is one of the most popular choices for a home's exterior- it's maintenance-free and resistant to moisture and mold. The variety of color choices will give you the look and feel that you want in your house that will make it your home.  From Antique Parchment to Harbor Blue, the Charter Oak color palette makes it simple to keep your home looking gorgeous – whatever your architectural  style.  Looking for durability that spans the generations?  You've come to the right place.
With Charter Oak®, Alside's flagship siding product, comes authentic wood beauty with unmatched durability, performance and maintenance freedom.    Alside's exclusive TriBeam® Design gives superior rigidity, while a double-thick nail hem enables it to withstand Category 5 hurricane-force winds.
Features and Benefits
PureStrength™vinyl resin gives Charter Oak its basic strength and weather resistance. It prevents moisture infiltration from rain and humidity, so panels won't rot, warp, shrink or swell. The result is low-cost, easy-care maintenance.
Ti-Shield ™titanium dioxide prevents ultraviolet degradation, so even hot summer sun won't damage Charter Oak's beautiful surface.
StayRight™ vinyl stabilizers also help prevent heat degradation, both during manufacturing and after installation.
TrueShield ™impact modifiers give Charter Oak exceptional impact resistance, helping to prevent denting and dinging from routine around-the-house activities.
DesignersChoice™ pigment concentrates are used to produce uniform colors that go clear through Charter Oak panels. You'll never have to stain or paint again, because the color won't wash away.
Exclusive TriBeam® System provides unsurpassed panel rigidity and superior wind resistance
In independent tests, Charter Oak proved to be as much as five times more rigid than leading competitive soffit panels
Charter Oak Soffit is so rigid that it can be used as vertical siding to emphasize accent areas
Achieve beautiful ventilation because aeration openings are hidden in the grooves to keep attics cool and dry
Lifetime Transferable Warranty*
*See printed warranty for complete details
WHEN YOU WANT TO MAKE A STATEMENT
Four authentic cedar reproductions are designed by artisans and engineers to guarantee that each piece looks handmade. New technology and color selections work with all Alside siding profiles, creating endless design options.
Use Pelican Bay® One Scallops to highlight gables, window boxes and eave edges or to create frieze boards and bands to emphasize your home's style. Pelican Bay One Traditional Shakes, Hand-Split Shakes and Cape Cod Shingles are hand-crafted to bring the look of real cedar shake to your home – use to accentuate the architectural aspects of your home or to side your entire house.
When it comes to separating Pelican Bay One from real cedar – the distinction is in the performance. Pelican Bay One features durable polymer construction that won't crack, warp, rot or split and never needs to be painted. You'll have the natural beauty and appeal of genuine cedar but without the time-consuming maintenance.
These distinct qualities combined with the latest technology make Pelican Bay One an industry leader in design, appearance and performance.
Premium Vinyl Siding & Soffit
Charter Oak® Premium Vinyl Siding and Soffit is the obvious choice for adding quality & distinction to any type of home.
Because of its exclusive TriBeam® System, Charter Oak is one of the most rigid vinyl siding and soffit products on the market. It effortlessly spans uneven surfaces and delivers even course line while resisting sagging over long runs. Use Charter Oak soffit as an attractive, low-maintenance option for porch ceilings, overhangs, or focal points where you want to create high impact appeal. For eaves, specify Charter Oak ventilated soffit paneling. Aeration openings hidden inside the panel's grooves provide the air flow needed to reduce heat and humidity build-up in attics.  Installation includes:
Complete Siding Replacement
Siding Repairs
Corner Posting and Trim Repair
Wrapping exposed wood